Indorama Ventures Awarded "2020 DX CEO" by IDC Thailand
28 October 2020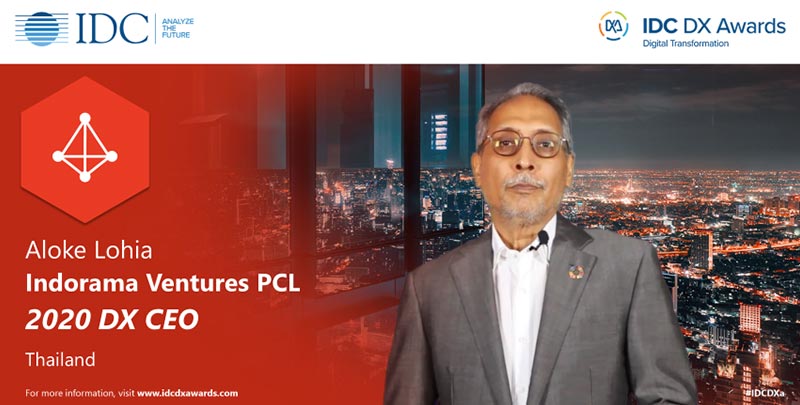 Bangkok, Thailand: 28 October 2020 – Indorama Ventures Public Company Limited (IVL), a global chemical producer, was recognized by IDC Thailand with Mr. Aloke Lohia, Group CEO, acknowledged as the '2020 DX CEO' for Thailand in this year's IDC Digital Transformation Awards (DX Awards). IDC's DX Awards recognizes outstanding organizations that have made critical breakthroughs in digital transformation, changing its business and markets across the Asia Pacific region.
IVL is currently implementing its digital transformation project utilizing S/4 Hana, an integrated SAP ERP across all functions. The full implementation of the ERP will help drive organization-wide optimization, improve overall efficiency and make IVL's businesses even more agile. The project is also part of the company's Olympus project, a cost transformation initiative which is expected to deliver savings of approximately $350 million by 2023. The project includes deployment of a global business solution throughout finance, operations, procurement, supply chain, sales and HR functions across IVL's 120 operating sites in 33 countries across the world.
IDC DX Awards were assessed by organizations driving business model transformation and business ecosystem which leverages from digital technologies such as Cloud, Mobile, Big Data / Analytics, Social and IoT across the Asia Pacific region. This 2020, IDC award has received more than 1,200 nominations across participating countries such as Singapore, Indonesia, Philippines, Malaysia, Thailand, Hong Kong, Taiwan, China, South Korea, India, Australia, and New Zealand.