Talent Attraction and Retention
We put our talent analytics at center stage throughout the employee lifecycle. With the insights gathered from strategy meet sessions by the senior leadership team, Global Employee Engagement Survey, and focused group discussions, we calibrate the employee lifecycle processes underpinned by data analytics to attract and retain talent.
Staffing needs resulting from retirement, attrition and future strategic needs are well-embedded with our talent attraction, retention and succession planning programs. In 2019, IVL welcomed 2,042 new employees of whom, 28.2% were women.
Continent
Male
Female
Total
Number
%
Number
%
Number
%
Asia
571
28.0%
264
12.9%
835
40.9%
Europe
334
16.4%
165
8.1%
499
24.4%
The Americas
410
20.1%
146
7.1%
556
27.2%
Africa
149
7.3%
3
0.1%
152
7.4%
Total
1,464
71.7%
578
28.2%
2,042
100.0%
While our global and regional employee referral program is pivotal in attracting talent, we also use other platforms such as Campus Connect and LinkedIn to further reach potential candidates.
We are complying with local minimum wages and the ratios of standard entry level wage compared to local minimum wage of both male and female employee is greater than one.
Retention Rate Over 90%
We calibrate employee lifecycle processes through insights gathered from labor market scenarios, strategy meet sessions, the Global Employee Engagement survey, and focus group discussions. This calibration is underpinned by data analytics to identify the best options for talent retention.
Note: Turnover rates have been recalculated and restated using a more stringent definition and methodology.
Beginning in 2018, we have relied increasingly on data analytics, which is one of the best approaches to identifying hot-spots requiring a response. Retention interventions were crafted by understanding a Business Unit's specific needs, with appropriate action taken at the country, regional or global level.
To better understand and analyze our data, we implemented a new methodology with a change of concept that expands the focus area by covering all of the group's employees including newly acquired units and additional voluntary reasons as well.
With a shift of 0.55%, our overall attrition rate for 2019 was 9.50%. This is a result of our rapid growth due to the large number of acquisitions in 2019 resulting in the integration of more than 22,000 employees across the globe.
We believe a firm foundation will lead to sustainable and positive changes. We have begun to deliver a global platform in many HR-related areas that are aligned with our strategic long-term HR priorities as follows:
SAP HR/; Began a detailed feasibility study in 2019 together with a project to configure our systems, ensuring they are aligned with the new HR global processes in 2020 and to prepare and implement an effective and efficient global HR platform covering the key HR processes.
Talent Acquisition and Management: Began a detailed feasibility study and initiated a project to deploy Succession Planning scoping from the top level down to N-3 levels in 2020.
HR Function Capabilities and Engagement: To strengthen merger & acquisitions; skills and benefits; and engage all HR managers in projects, process design and policy setting.
Global Employee Engagement: We decided to move the yearly GEE process to every second year to ensure a deeper review of the feedback given by employees, and improved implementation of the initiatives as per the feedback from the engagement process before we further approach our employees for the survey. We plan to rollout a new and more efficient GEE program in 2021 which promotes diversity, delegation, trust, and inclusive management.
Workforce Engagement
The Global Employee Engagement (GEE) survey is proving to be an effective tool in listening to every single employee and understanding what matters most to them. In 2019, we decided to move the annual GEE process to every second year with the next one set to take place in 2021.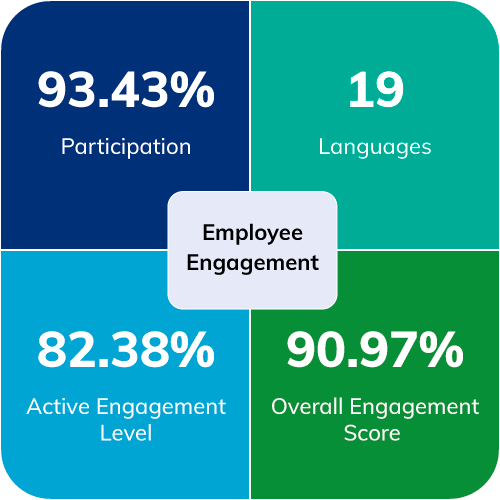 The result was shown in the GEE survey of 2018 that we still use that was made available in 19 languages where 93.43% of permanent employees participated. 90.97% overall engagement score shows that we are on track to exploring and establishing ways to engage our workforce in a more meaningful way. Award for Excellence is the major highlights of key engagement initiatives in 2019