Talent Attraction and Retention
We put our talent analytics at center stage throughout the employee lifecycle. With the insights gathered from strategy meet sessions by the senior leadership team, Global Employee Engagement Survey, and focused group discussions, we calibrate the employee lifecycle processes underpinned by data analytics to attract and retain talent.
Looking back on 2015 which was the launch for our first Global Employee Engagement (GEE) Survey, the headways we made in our employee engagement journey till now is impressive. The Global Employee Engagement (GEE) survey is proving to be an effective tool in listening to every single employee and understanding what matters most to them. The year-on-year improvements both in terms of employee participation and engagement scores has been significant. The GEE for year 2018 was conducted in 19 languages.
2018 Target
Better than or equal the employee engagement score to previous year
2018 Achievement: Employee engagement score =
3.85
Employee Engagement Score
Results of the 2019 GEE Survey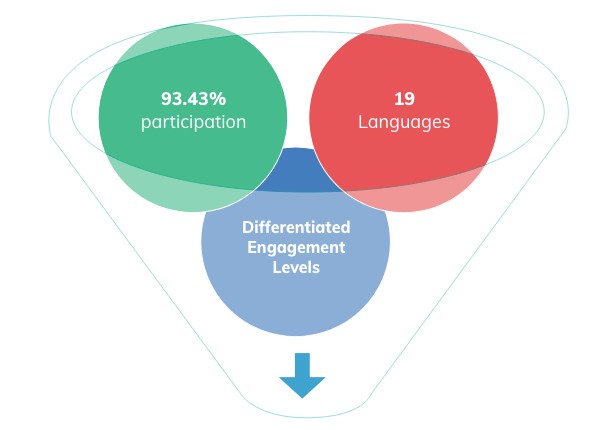 82.38%
Active Engagement level
Some of the major initiatives and examples that enabled our retention of talent are noted below:
1. Global Collaborative Platform
Setting up the Global Collaborative Platform to share the best retention interventions prevailing across BUs was a major enabler in understanding the retention levers in different regions / countries.
2. Career Growth Opportunities
For BUs in the EU and US, a retirement plan is carried out to program retirements in the upcoming years. In such cases, the department and employee have an opportunity to react in time to make a planned succession. The intern / Co-op program ensures a sufficient talent pool at the bottom of the pyramid.
In some of the BUs, factor analysis revealed a high correlation with safety related aspects. To address this, these units embarked on Behavior-Based Safety (BBS) training which is given to all concerned employees, including from contractors.
The increase in the overall engagement score attributes to engagement interventions underpinned by data analytics that combines multiple parameters like tenure, gender, and age. We promote the disclosure of any misconduct or views about our processes and practices. In addition to local channels, an email address is given on our website for employees to report potential breaches of Indorama Ventures' Values and Code of Conduct. The Ethics Council takes immediate action on these cases by maintaining the confidentiality of the whistleblower, and at the same time reporting on such disclosures to the Nomination, Compensation & Corporate Governance (NCCG) Committee, which consists of Independent Board of Directors.
Some of the initiatives taken to sustain and improve employee engagement are noted below:
Under the regional leadership team, the site heads take a holistic view of issues starting with the gap in EBITDA and systematically work through the causes using the Define, Measure, Analyze, Improve, Control (DMAIC) approach to solving problems. This team visits each site to learn best practices, challenge the culture, and solve problems. The expectation is that the team will collaboratively develop an excellence action plan.
2. Project: What makes a manager
Units with low engagement scores on people manager capabilities started by improving leadership skills, especially of front-line leaders, by understanding the characteristics of higher performance teams. An emphasis is placed on making these front-line leaders conscious of the different aspects of high performing teams such as communication across different levels of the organization, tools to build trust, commitment, respect within the team, the importance of why-how to gain alignment and motivate your team, and the importance of discipline and personal accountability.
The Award for Excellence inspires our employees to challenge all boundaries and produce outstanding results. Started in 2017, this award is based on stellar performance across 10 criteria which are based on Financial Performance, Operational Performance and Sustainability Criteria Performance. The best BUs are identified by benchmarking the performance across these criteria, and are awarded at the Global Strategy Meet.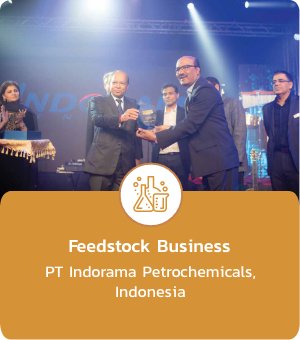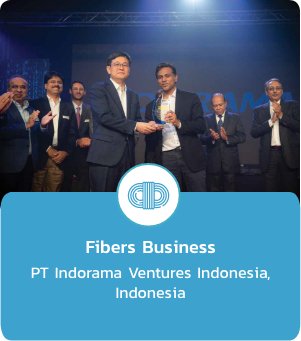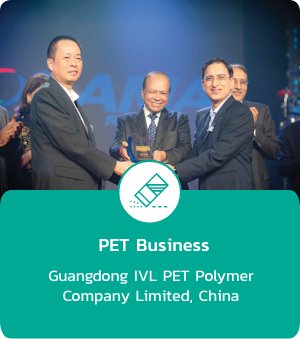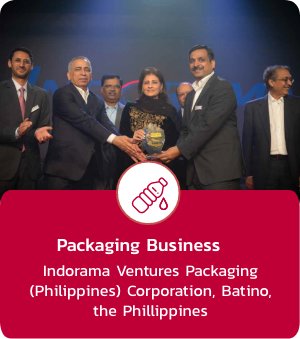 Launch of global platform in 2019 to learn and adopt the best retention interventions prevailing across all business units was a major enabler to understand the levers of retention. This approach has reinforced our focus and imperatives to retain our talent in a sustainable way.
Over 94% Retention Rate
We gather insights from labor market scenarios, strategy meet sessions, the Global Employee Engagement survey, and focus group discussions, and then calibrate the employee lifecycle processes. This calibration is underpinned by data analytics to identify the levers of talent retention.