We intend to reduce the concern consumers have about the impact of PET bottles in the environment, and will achieve this by building collaborative systems to increase the global recycling rate of polyester and investing in recycling capacities. As the largest virgin PET resin producer, we want to compliment this position by becoming the global leader in the recycling of PET bottles and packaging. We will supply our customers PET with their desired levels of recycled content, and in the process will save energy and water and reduce emissions that contribute to global climate change.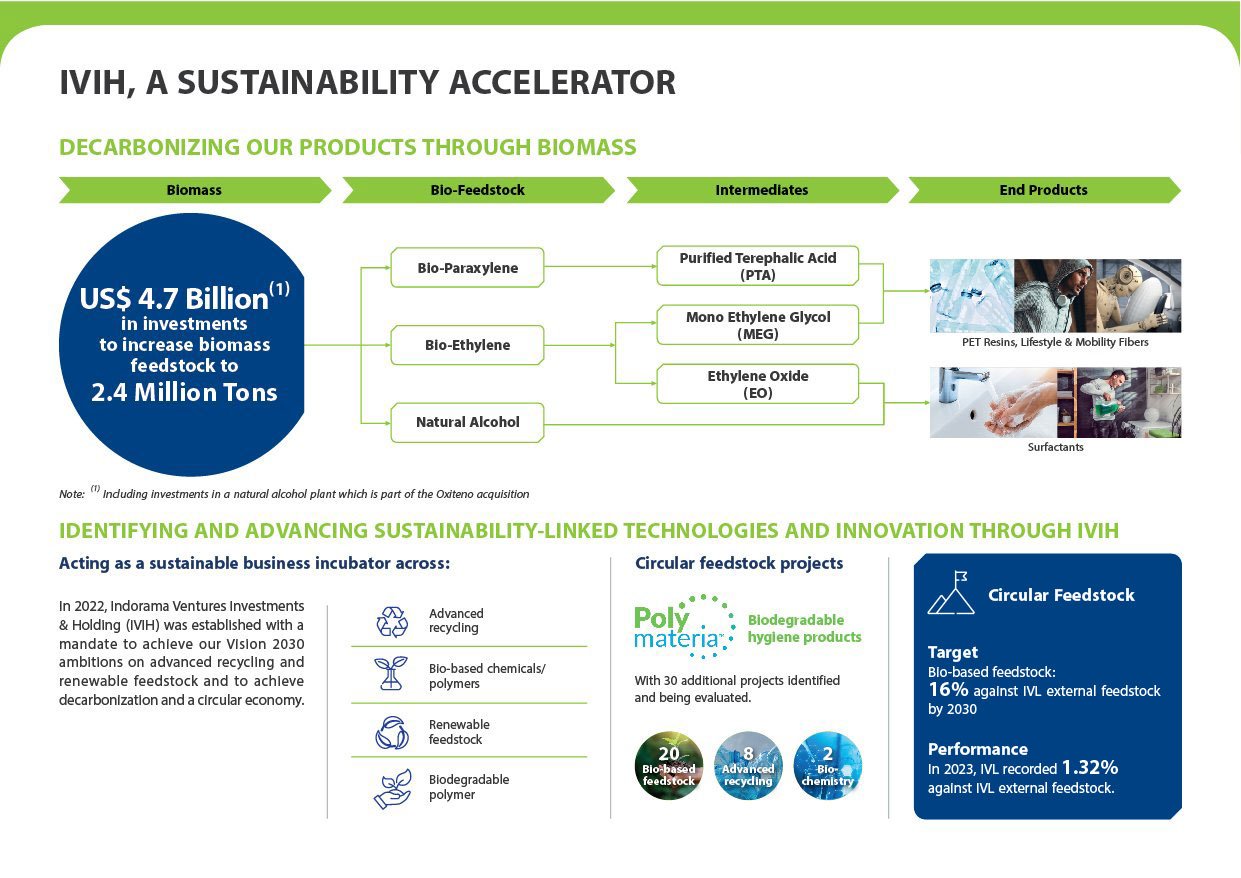 Circular Feedstock
Bio-based feedstock: 16% against IVL external feedstock
Recycled feedstock (Post-consumer PET bale input): 23% against IVL PET feedstock by 2030
2022 Progress
Bio-based feedstock: 1.24% against IVL external feedstock
Recycled feedstock (Post-consumer PET bale input): 5.25% against IVL PET feedstock
Circular Economy Achievement
Design
Products are designed to be light weight, achieve high performance in the use phase, and include more sustainable and recycled materials which can be easily managed at their end of life.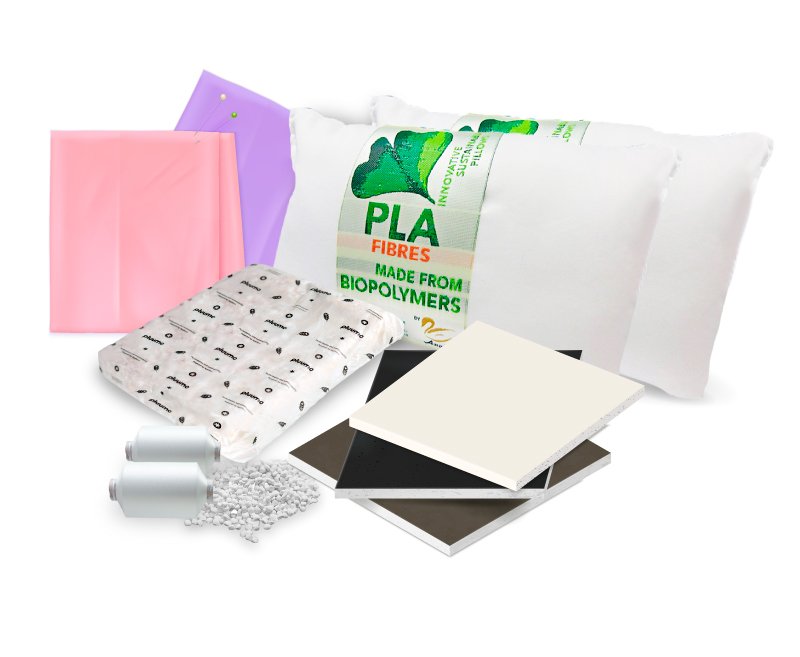 Production
Operations that aim to reduce GHG emissions by using alternative raw materials and renewable energy as well as minimize resources consumption.
Operational Performance in 2021
143,175 tCO2e GHG emissions reduced through the use of renewable electricity and bio-based fuels.
317,064 tons recycling of post-consumer PET bale input
100% renewable electricity at six sites
2,803,265 GJ combined use of renewable energy
Water intensity = 5.33 m3 / ton of production
Water reused / recycled = 5.93%
78% waste diverted from landfill
Distribution
Improving Logistics Management / GHG Scope 3 Accounting
Improving Logistics Management / GHG Scope 3 Accounting
Improving upstream and downstream transportation and distribution
Shifting from road to rail transportation
Moving to direct shipments by avoiding intermediary transshipments
Case Study
Ethylene Exchange Solution
Indorama Ventures (Oxide & Glycols) LLC, or IVOG, is IVL's wholly-owned subsidiary in Clear Lake (Houston), Texas, producing Ethylene Oxide and Ethylene Glycols (EOEG). IVL is also establishing an olefins production site, Indorama Ventures Olefins LLC, or IVOL, in Lake Charles, Louisiana, the neighboring state. The two companies are located 275 miles apart.
To ensure delivery of ethylene to IVOG, which it purchases as raw material, IVOL decide to enter into a 10-year co-producer ethylene exchange, whereby Indorama has the option to provide up to 100% of IVOL's 420 KT annual ethylene production to a co-producer, for redelivery to mutually agreed upon destinations between the parties. This agreement benefits both IVOL and the coproducer who has excess capacity in Texas and is short of ethylene capacity in Louisiana, and also reduces pipeline transportation expenses for both parties. Moreover, it is ensured that IVOG's Clear Lake EOEG plant can be adequately supplied in the event of any operating issues at any single cracker without a disruption in supply to IVOG.
Consumption
Advocating for Changes in Laws and Regulations by providing and promoting waste management and demand for rPET.
Effort to Impel the Use of Recycled PET in Food Packaging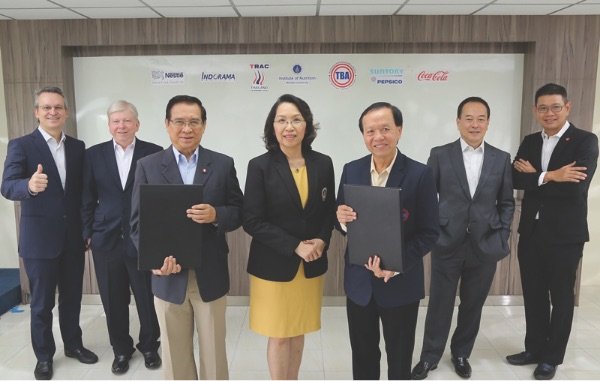 Thai Beverage Industry Association (TBA) with the support of The Coca-Cola system in Thailand, Suntory PepsiCo Beverage (Thailand) Company Limited and Nestlé (Thai) Ltd. Companies in partnership with IVL have announced their collaboration to further encourage regulation amendment that will allow the use of recycled PET in food and beverage packaging in Thailand.
Explore more
---
Promoting Demand for rPET
IVL signs agreement with beauty leader and Food & Beverages Brands to supply Sustainable PET Packaging for a multi-year.
Supply PET resin made of 100% recycled materials for L'OREAL packaging needs
L'OCCITANE will meet its 100% recycled bottles goal ahead of schedule
Collection
Collaborating with Stakeholders to build Recycling Education Awareness (suppliers / partners / customers / general public / students / teachers / private sector)
IVL encourages recycling and waste separation among children, communities, and consumers through our recycling education programs, which aim to increase their awareness and involvement in protecting the environment for a better future. In 2021, our training programs were arranged in several organizations.
Explore more
To raise awareness on the value of recycling PET, IVL has cooperated with several partners to collect Post-Consumer PET Bottles and send back to our recycling factory.
---
---
---
---
Recycling
Recycling is the Heart of A Sustainable and Future Global Economy
In 2011, our post-consumer PET bale input were recycled 5,418 tons, but by 2021, it had grown exponentially to about 317,064 tons. During this period, we recycled around 72 billion bottles. This worked out to 1.6 million tons of plastic waste not going to landfill, which would cover 2.4 million tons carbon footprint reduction.
IVL adopts various technologies to develop the PET recycling system. In 2011, we acquired proprietary knowledge on mechanical recycling through our Wellman assets and scaled it up to 16 recycling facilities worldwide as of December 2021 with a total of 317,064 tons of post-consumer PET bale input recycled in 2021.
We are working with several industry partners and organizations, which have a joint commitment to improve plastic waste management, which lead to a circular economy for sustainable plastics.
The New Plastics Economy: IVL is proud to announce its commitment as part of the New Plastics Economy to eliminate problematic plastic packaging, and increase the use of recycled plastic in packaging. The commitment calls on companies and governments to innovate solutions enabling plastic to be 100% reusable, recyclable, or compostable.
Global Plastic Action Partnership: IVL announced that it has joined the World Economic Forum's Global Plastic Action Partnership (GPAP), which aims to reduce plastic leakage into the environment and is driving the transition to a circular economy for plastics. This partnership is aligned with Indorama Ventures 2019 commitment to increase recycled content volumes of PET by at least 750,000 tonnes, pledging US$ 1.5 billion towards achieving this target by 2025.
The Recycling Partnership: IVL announced that it has joined the Recycling Partnership, the only organization in the United States that engages the full recycling supply chain. IVL's collaboration with The Recycling Partnership will promote the U.S. residential recycling rates and increase availability of recycled PET to meet the global recycled content commitments.
We strongly support the global efforts underway to achieve the UN Sustainable Development Goals (SDGs). Our recycling efforts are particularly focused on addressing the following SDGs: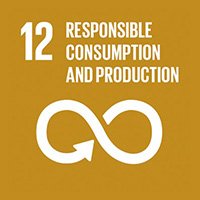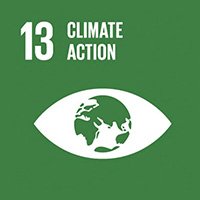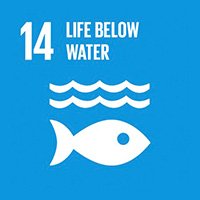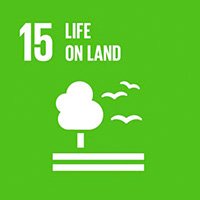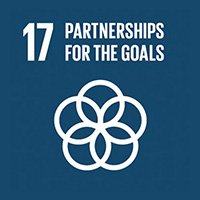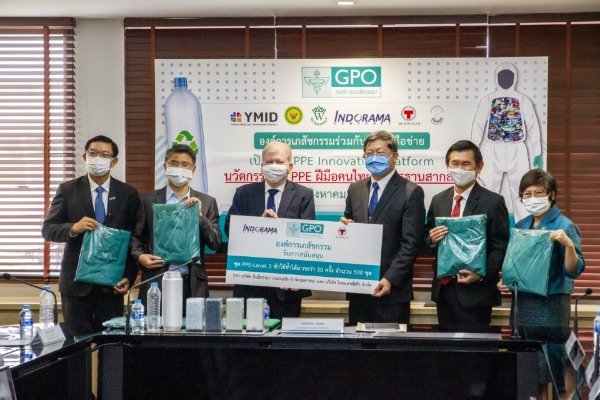 Indorama Ventures becomes the first company in Thailand to produce high standard recycled PET fibers to manufacture Level 3 reusable isolated gown PPE suits for medical personnel during the COVID-19 pandemic, working in collaboration with Less Plastic Thailand, Thai Taffeta, T-Plus, TOA Paint and GoWith20. The PPE suits are made from PET bottles collected in Thailand through various organizations and recycled into fibers at our facility in Nakhon Pathom.
Explore more