Product Stewardship
Product Stewardship at IVL provides a framework for active engagement across the company to ensure that our products present no risk to health and the environment. It encourages innovation in our products and processes to meet increasing societal and business expectations regarding sustainability and transparency.
We identify risks and opportunities to reduce resource and material consumption through Life Cycle Assessments (LCA) of our products throughout the value chain. Furthermore, Product Stewardship and Innovation Management include an inter related set of business activities, policies and procedures, and organizational designs.
Establishing an LCA management system globally by 2018-2019 and covering two-thirds of products by volume by 2020.
Implementing product design criteria that meet environmental and social needs for all products globally by 2020.
Our Product Stewardship initiatives include
Expanding the use of LCAs for our products
Eco-design criteria and Product safety communications
Closed loop innovation and leadership position in use/promotion of recycled PET
Evaluating bio-based renewable feedstocks
Promoting a "beyond compliance" program for eliminating use of potentially harmful substances
Eco-design Criteria & Product Safety Communications
Our Product Design Criteria
Resources
(Renewable Energy, Water, carbon emissions)
Use Phase Impacts
Toxicity
Bio-based
(Recyclability Potential)
Biodegradability & Composability
Light weighing & Down gauging
Regulatory Compliances
(FDA, REACH, SIN list, SVHC list)
Transportation Efficiency
End of Life Management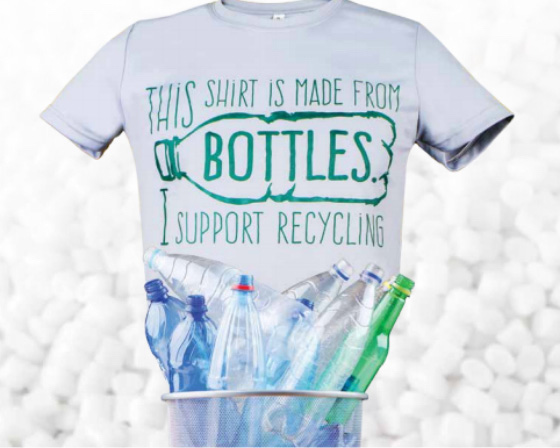 IVL has implemented numerous process efficiencies that have resulted in dramatic efficiencies (measured by energy, GHG/ton of production). As IVL seeks further efficiency gains, eco-design criteria evaluation and decision-making will be more formalized throughout the entire organization as part of our global Product Stewardship standard.
IVL provides Safety Datasheets in GHS SDS format to customers. GHS formatted product labels are complete. IVL, in keeping with Product Stewardship and Sustainability Leadership best practices, will begin the process of making these product safety communications more readily available through the company websites. This pro-active disclosure is in-line with the expectations of our customers and stakeholders, as well as leading initiatives such as Responsible Care.
Renewable Sourcing and Bio-based Feedstocks
IVL is active in research and development projects aimed at using bio-based feedstocks for chemical products. Renewable raw materials and chemicals from bio-based content that we procure and use in our manufacturing needs to be certified (certifications must be provided) as originating from sustainable or environmentally friendly sources.
In order to realize greater acceptance and growth of these renewable alternatives, a number of current challenges -- such as scaling up the new technologies to achieve commercialization, staying on top of new technologies, as well as ensuring dynamic portfolio technologies and relationships -- will require continued innovation and deepened partnerships between Brand Owners, resin producers and others in the PET supply and value chain. The current confidential nature of these collaborations prohibits greater disclosure.
Case studies
Sustainable Pillow Made from Biopolymers PLA Feeling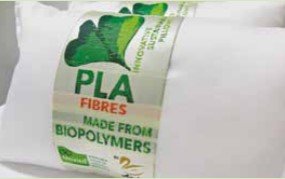 The filling for the pillow consists of 95% biopolymer PLA made from sustainable raw materials offer a sustainable alternative to petroleum-based fibers, in addition to being recyclable and 100% biodegradable with industrial composting. This pillow has qualified for our Sinfineco brand, which is only awarded to sustainable Trevira products.
AEROPOWDER – biodegradable insulating material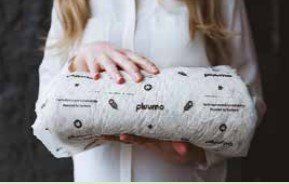 This productive collaboration between Trevira and AEROPOWDER resulted in the creation of a completely biodegradable insulating material. A start-up based in London launched a new sustainable product called pluumo – a biodegradable, innovative packaging material that harnesses the power of feathers. Feathers have naturally insulating properties, and to find a fiber that would help realize their design idea, AEROPOWDER turned to Trevira GmbH. We developed special binding fibers – bicomponent fibers consisting of two different biopolymers.
Substances of Very High Concern
As part of IVL's global Product Stewardship program, IVL will maintain its own Restricted Substances List while developing a "Beyond Restricted Substances" list where the company will seek alternatives to these substances. These substances may not be directly regulated today, but as there is sufficient concern among stakeholders, IVL will be proactive in monitoring and seeking alternatives.
The Product Compliance Risk Characterization (PCRC) process undertaken for 100% of our products is the mechanism by which this assessment is performed for their potential impact on human health and the environment. Specifically, the PCRC process gathers inputs from those interfacing with customers to obtain information about intended downstream applications. What follows is an assessment of each raw material with a focus on potentially new formulation components along with their effects on both manufacturing hazards and product compliance (in terms of both chemical registration and food safety) in target markets.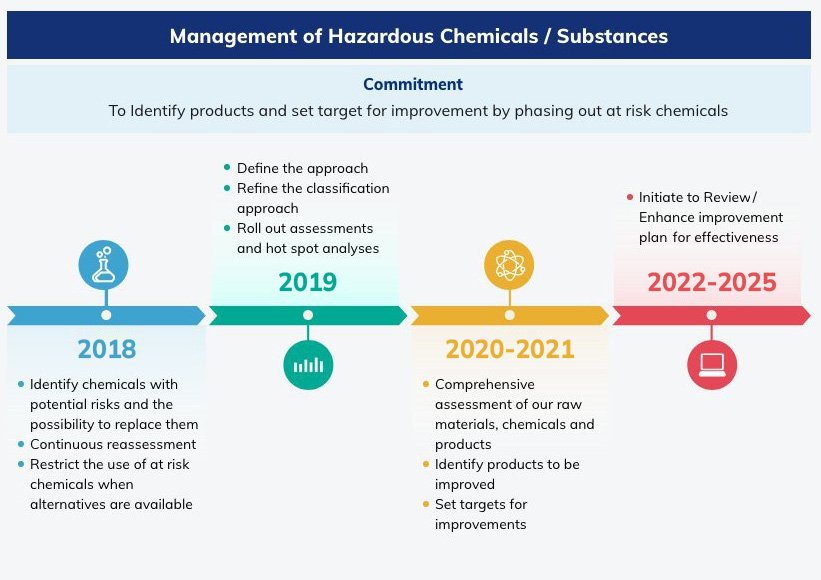 Highlights
100% of European entities are compliant with REACH regulations
100% compliance with the ECHA SVHC list and proactively removing products on the SIN list IVL is not listed as a manufacturer of chemicals on the SIN list
Case Studies:
Antimony-free flame retardant staple fibers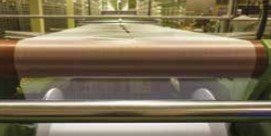 An important functional fiber which we produce is Trevira CS® , the world's premier flame-retardant fiber. Trevira has extended the antimony-free technology to these fibers.
A new star has joined the IVL family: Heavy Metal-Free iCareTM
iCareTM symbolizes the fifth core value of IVL: "We are responsible", demonstrating our industry leadership, sustainability, innovation, passion for excellence, eco-friendliness and a commitment to the success of our customers. Today, IVL has the capability of supplying a whole range of iCareTM fibers, filament yarns and PET resins for the apparel, home care, hygiene, automotive sectors, and industrial applications. iCareTM staple fibers include, but are not limited to, 100% PET fine and coarse deniers, hollow conjugated, and bicomponent fibers for various downstream products including clothing, disposable hygiene, pillows and bedding, toys, automotive nonwovens, and industrial nonwovens. iCareTM PET filament yarns include partially oriented yarns, draw textured yarns, fully oriented yarns, colored yarns and differential shrinkage yarns. IVL also offers iCareTM Heavy Metal Free Chips (resin) for filament yarns, spunbond/spunmelt and other products.
Life Cycle Assessment (LCA)
Life Cycle Assessment (LCA) is a systematic analysis of product life cycle to assess the environmental impact from these products, by taken into an account of raw material acquisition to the end of their products' life at disposal or recycle stage. At each stage of product manufacture, analysis of environmental impact is carried out by consideration of energy consumption, water consumption, air emission, waste water discharge, etc. that had been used for production of one functional unit.
IVL's journey towards LCA
As part of our sustainability efforts, IVL monitors the effect of our products on the environment by conducting Life Cycle Assessment (LCA).
The reasons for LCA study is to "Quantify the various environmental impacts of the products to be used in the product stewardship program of the company for communicating to the stakeholders".
Our main product is Polyethylene Terephthalate (PET), which is considered as an environmentally friendly polymer with no concerns to safety during its manufacturing process and use. PET is replacing glass, PVC and Polystyrene and is widely used in food and drink packaging. PET is also the main polymer used in synthetic fibers for textiles, with no adverse concerns to the consumers. PET is the only polymer that is recycled in a closed loop to food packaging or textiles.
Highlights of Products done LCA
IVL has carried out LCA studies for its PET products i.e. Preform, Fibers- Yarn, fabric, wool, Recycled Flake, PET, PIA and PTA and Wool. and understands the impact on the environment during the manufacturing. Together with Industry partners IVL is assessing the LCA of the use of PET including recycling.
IVL worked with the University of Utrecht in the Netherlands in order to understand the carbon footprint of PET, to assess its environmental aspects and any potential impacts associated with a product and process. The analysis examined our plants in the Netherlands, Lithuania and Poland. The study concluded that the IVL PET plants perform much better than the European average concerning CO2 emissions.
In addition, AlphaPet, one of our wholly-owned subsidiaries in the US, also carried out a Life Cycle Assessment in 2015. The report suggested that the contribution of global warming potential (GWP) of PET manufacturing at the AlphaPet site is comparable to the published literature data.
The Fibers segment conducted LCA studies of >90% products (by volume) produced in Asia in 2017. During 2019 these LCA studies will be revalidated by comparing results across sites and implementing learnings. Other sites, notably Wellman International (for its rPET) and Trevira, have also completed LCA. In all cases, these are to ISO standards and cover cradle to factory gate analysis.
We completed LCAs at all of our plants in Asia (excluding new acquisitions from 2017-2019) in accordance with ISO 14040/44:2006, with plans to extend LCAs to the rest of our operations.
The exercise will help IVL to understand the various environmental impacts of the selected products which will then further be used in the product stewardship program of the company for communicating to the stakeholders.
Life Cycle Management (LCM)
It is the proactive and systematic management of information gained through the LCA that improves decision making. As a result of LCM, IVL is able to more accurately identify cost reductions, process improvements, reduce risks and make strategic product decisions. We intend to commence LCM in all (relevant) IVL operations by 2020.
IVL is ensuring full compliance of its products with all applicable legislation and local regulations. IVL operations start at a baseline of a low chemical toxicity footprint. In order to promote best practice and industry leadership, IVL has a system of benchmarking all its productions sites and is committed to further reducing potential toxicity in all its products.
IVL is leading several industry organizations aimed at identifying new concerns related to the use of its monomers, additives and the use of the final product in sensitive applications such as packaging of food, pharmaceutical products and drugs. IVL monitors all of the international environmental regulations and takes appropriate action, if necessary, to ensure that each of its products remains in compliance with all established toxicity threshold limits.
IVL is identifying potential restrictions to the use of its monomers, manufacturing processes and final products and has a system to work with industry organizations to address these concerns in an early stage and avoiding that they result in legislative restrictions.
With regard to chemicals and their safe use REACH is one of the most important European Community Regulations. The aim of REACH is to enhance the protection of human health and the environment through the better and earlier identification of the intrinsic properties of chemical substances and by applying appropriate safety assessment and risk management for the use of those substances. IVL met all the 2010 and 2013 REACH deadlines. Our REACH statements can be provided by the regional sales organization.
Our commitment
Lowering our overall environmental impact includes a target of 100% Energy and Environmental Management Systems in all our operations by 2020, and achieving 100% compliance of the European Union's REACH regulation by 2018.
EU Member States Competent Authorities or the European Chemical Agency, may prepare dossiers for the identification of substances of very high concern. The outcome of this identification procedure is a list of substances that may be restricted or completely forbidden in the future. IVL affirms that it does not intentionally add substances of very high concern or that its products contain these in concentration amounts above 0.1% weight.
Highlights
100% of European entities are compliant with REACH regulations
100% compliance with the ECHA SVHC list and proactively removing products on the SIN list IVL is not listed as a manufacturer of chemicals on the SIN list
PLA filament yarns obtained ISEGA certification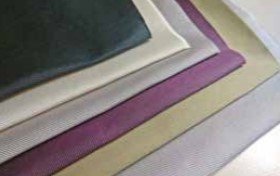 Trevira's PLA fibers can also help meet the needs of the food industry. Together with our customers, we have already obtained ISEGA certification for selected products. Trevira not only offers PLA staple fibers, but also PLA filament yarns. Some examples of products made from this sustainable material are knitted massage gloves by the Italian firm MDD di Maddaleno Massimiliano; an interior lining fabric that protects against the sun, by Spanish company Vertisol; and a woven 100% PLA fabric by French firm Chamatex.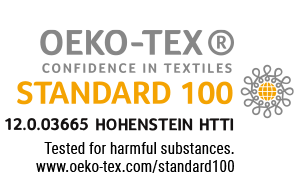 Flame retardant Trevira fiber and filament yarns are certified to STANDARD 100 by OEKO-TEX® and have been awarded its highest rating, meaning that they are suitable for baby and toddler articles.
STANDARD 100 by OEKO-TEX® is one of the world's best-known labels for textiles tested for harmful substances. It stands for customer confidence and high product safety.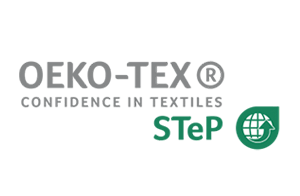 Also, our fiber products at Indorama Polychem Indonesia received the Oeko-Tex STeP certification.
STeP by OEKO-TEX® stands for Sustainable Textile & Leather Production and is a modular certification system for production facilities in the textile and leather industry for environmentally friendly and socially responsible production facilities along supply chain.
Find out here what STANDARD 100 means and why it is worth checking for this label when buying textiles at https://www.oeko-tex.com/en/
While our products are not harmful and compliant with all relevant regulations, we are always seeking ways to lower the potential environmental impact and toxicity of the raw materials and other chemicals used in our processes. We stringently monitor our raw materials, and any potential issue that is discovered is actively replaced with known, registered materials or with alternatives that are safe based on their chemistry. We evaluate chemicals used in our operations and their exposure to our employees and the environment, and have effective control of volatile substances on the SVHC list and SIN list that may present a risk.
We take a proactive approach, actively engaging in assessments and ensuring that we meet the European Union's REACH regulations and other compliance requirements.
We comply with the ECHA SVHC list and are proactively removing products on the SIN list. It should be noted that IVL is not listed as a manufacturer of chemicals on the SIN list.
Our goal is to complete the comprehensive assessment of our raw materials, chemicals, and products during 2020 regarding the SIN list and to set a target for improvements by 2021. We monitor the release of SVHC updates and assess our raw material streams. In some cases, a substance could be on an SVHC list in raw form, but once it is converted to a different, benign form, it no longer has a product safety risk.
"IVL is targeting zero violations against domestic and international regulations as well as zero use of any substance of very high concern (SVHC)." We evaluate the chemicals used in our operations and their exposure to our employees and the environment, with effective controls in place of volatile substances on the SVHC list and the Substitute it Now (SIN) list that may present a risk.