Renewable Energy Management
Given the limitations on the planet's natural resources, we are shifting from conventional to renewable energy sources, which offers enormous possibilities in reducing our carbon footprint while helping to protect the environment. We are continuously exploring opportunities to replace fossil fuels with renewable energy across our business operations.
Renewable Energy Management
In order to decarbonize our carbon footprint in our operations and value chain, we are exploring a diverse portfolio of solutions. We are actively reducing our reliance on conventional energy and increasing our use of renewable energy sources.
Decarbonizing IVL's energy consumption via onsite and offsite renewable energy development is one of our Decarbonization strategies. We are consuming renewable energy (biogas, biomass and renewable electricity) in our operations and are further exploring the option of increasing the use of renewable electricity to achieve our 2025 ambitions. The use of renewable energy is via a combination of
Onsite Renewable Energy
Aside from biomass and biogas, we strive to generate an optimum amount of embed renewables at our sites through solar roof top and ground mounted. In 2021, we completed the installation of solar rooftops at four sites while one additional site is due for completion in the near future. We are also focusing on increasing our consumption of solar energy, through solar rooftop installations at other locations.
Offsite Renewable Electricity
Renewable electricity procurement through global virtual power purchase agreements (VPPAs) can offer further opportunities to reduce our GHG emissions in line with our commitment to the Paris Agreement. We are currently exploring procurement of renewable electricity through VPPAs and other market instruments of this type (for example, RECs and ROCs).
The percentage of purchased electricity from renewable sources increased globally from 2.89% in 2020 to over.7% in 2021. Below is the list of plants utilizing 100% renewable electricity
Indorama Ventures Portugal PTA
Indorama Ventures Quimica, Spain
Kordarna Slovakia
UAB Orion Global Pet Lithuania
UTT Technische Textilien Germany
Wellman International Ireland
Furthermore, we have two solar installations commenced in Egypt and China in 2021 to increase renewable energy usage with an overall capacity of 8.4 MWp.
Our progress on purchased renewable electricity: Throughout 2021 and continuing into 2022, we are working with long-term innovation roadmaps to map pathways toward net-zero emissions in the coming decades. In 2021, we concluded a new Virtual Power Purchase Agreement (VPPA) in the U.S to source renewable electricity which will commence production in 2023 – 2024. We expect to run RFP and project shortlist in Q12022, making the commercial negotiations and finalizing the deals in Q22022 and having the total volume 1.6m MWh by 2025.
With our success in a project implementation in the U.S., we are expanding our renewable electricity procurement in the EU and will be actively pursuing opportunities for renewable electricity as another strategic decarbonization action.
Renewable Electricity Consumption
2022 Actual:
IVL consumed
3.32%
of renewable electricity
2022 HIGHLIGHT
209,242
MWh
Purchased renewable energy with certificates through PPAs in USA and Europe
58%
of our sites received
ISO 50001 :2011/ISO 50001 :2018
(Including Oxiteno acquired in 2022)
savings over
143,175
tCO2e
Our use of renewable energy in 2021 is around 2.8 million GJ resulting in saving of 143,175 tCO2e. Our efforts are helping to reduce greenhouse gas emissions (GHGs) and contributing to achieving the UN SDGs.
We are committed to sourcing more electricity from renewable sources and continue to explore ways to improve our energy management. We are reviewing the renewable electricity market, its pricing methodology and exploring the option of offsite Power Purchase Agreements (PPAs) to procure significant amounts of electricity. We are also exploring opportunities to install solar panels on the roofs of some of our plants which exhibit strong potential for solar power.
Case study
Innovations in Solar Fencing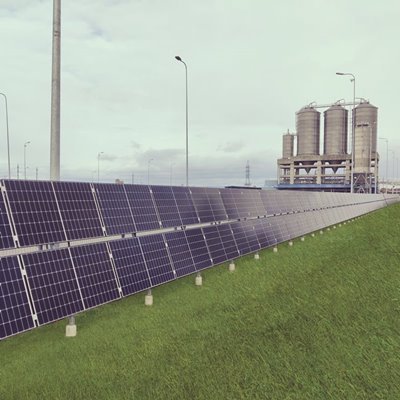 UAB Orion Global PET, our subsidiary in Lithuania, installed a solar power plant in place of a fence, which performs the dual functions of marking the boundary and generating 55.82 MWh of electricity per year bringing total solar energy capacity at the site to 390,000 kWh.
Clean and Renewable Electricity Supply from Solar Modules
Indorama Polyester Industries (Nakhon Pathom), Thailand, or IPI – N, a wholly-owned subsidiary of the Company, demonstrated its green credentials by installing photovoltaic modules for captive solar power generation on the roof of their facility. These high efficiency modules have a capacity of 840 kilowatt peak (kWp) and can generate an estimated 1,173 MWh per year. The advantages from this inexhaustible energy source are clear from a financial and environmental perspective, as they provide an annual electricity cost-savings of roughly USD 122,000 with a reduction in CO2 emissions of 560 tCO2e/year. They were installed and started operating in July 2019. Total electricity generated in 2019 was 565,327 kWh which reduced 270 tons of GHG emissions. It reduced energy consumption from other conventional sources by 2,035 GJ and contributed to electricity cost-savings of USD 58,788. IPI – N's photovoltaic modules are an important step in reducing utility costs and greenhouse gas emissions.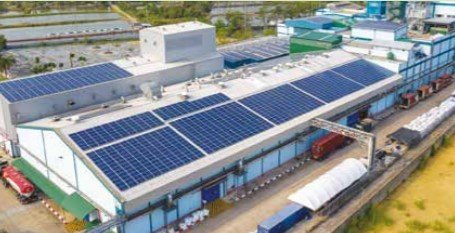 Entreprise Indorama PTA Montréal in Canada reduces GHGs by installing a unit to vaporize biogas
Entreprise Indorama PTA Montréal, our wholly-owned subsidiary in Canada, was a North American biogas recovery pioneer in 2009 having installed a unit to vaporize biogas, thus reducing GHGs. The unit, composed of a compressor, a gas dryer and a gas train/burner, successfully began replacing natural gas in a furnace. The biogas was generated by the treatment of its effluent in an anaerobic bioreactor and contains 70-75% methane with a low amount of contaminants and can thus replace natural gas. In 2015, the plant installed a unit to treat one of its upstream effluents to meet a new regulation that had the positive side effect of increasing the bioreactor's efficiency thereby increasing the available flow of biogas. With the increase in the bioreactor's efficiency, biogas production was higher than the capacity of the recovery unit, which needed to be upgraded to take full advantage of the additional biogas. In 2018, a new biogas compressor, a H2S removal unit and burner were added. With the new equipment now online, recovery is already higher than the former unit. A total of 1,218,000 Nm3/yr of natural gas is expected to be replaced by new biogas generating an annual reduction in GHG emissions of 2,300 tCO2e.