Human Rights
We strongly believe in respecting all human rights and in abiding by the UN Universal Declaration of Human Rights and the International Labor Organization (ILO)'s Declaration on Fundamental Principles and Rights at Work.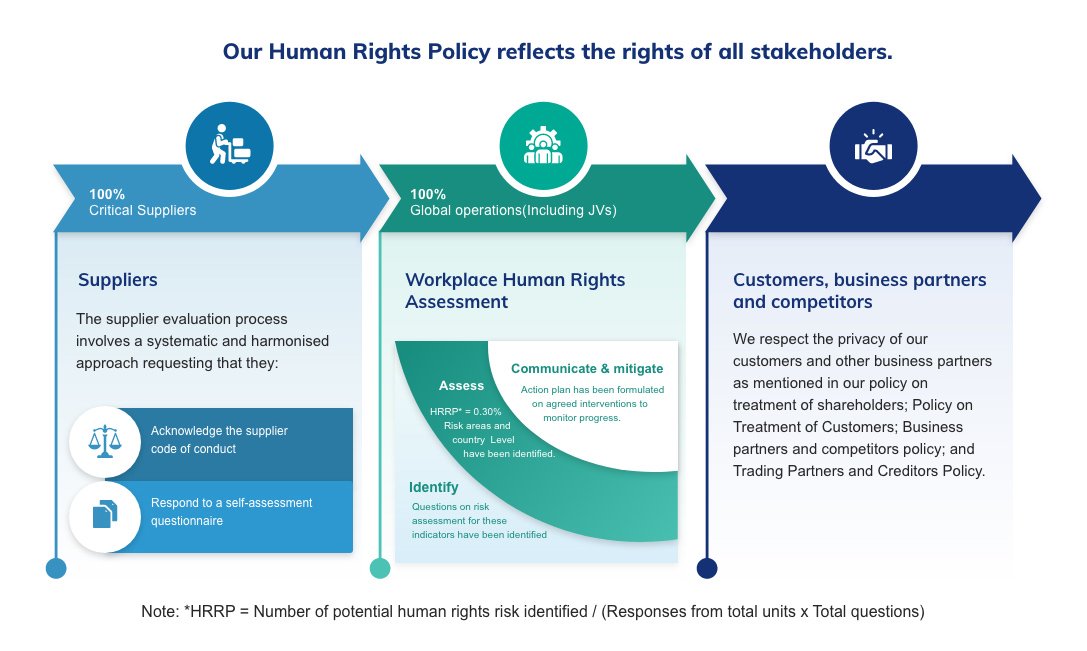 OUR TARGET
ZERO Human Rights violations
2021 Achievement:
Supplier ESG Assessments Results
There was no salient, industry or business-specific human rights issues was identified.
No key raw materials and critical non-raw materials suppliers were specified as being exposed to risks of incidents of child, forced and compulsory labour.
100% of raw material suppliers and critical non-raw material suppliers were assessed based on human rights-related risks.
No key raw materials and critical non-raw materials suppliers were identified as human rights-related risks.
Human Rights Declaration
100% coverage of all IVL operations
90% signed by Business Heads
92% signed by Site Heads
In response, we have initiated assessments through a structured annual survey and acted firmly to bridge any gaps throughout our value chain including our suppliers, business partners, customers and competitors.
Modern Slavery Statement
We are committed to the long-term change we can all make if we act to prevent modern slavery and welcome the global leadership role taken by the Government of Australia in combating modern slavery through the establishment of the Modern Slavery Act 2018.
Indorama Ventures Oxides Australia Pty Limited is proud to provide a report on our efforts to understand, recognize, and address the risk of modern slavery in our operations and supply networks.
While we have not uncovered any specific instances of modern slavery - we continue to proactively analyze, through our robust methodologies, the areas in our business and supply chain where risk factors for modern slavery may exist and cluster.
Workplace Human Rights Assessment
Human Rights protections in our supply chain
Total number of hours of employees training on human rights policies or procedures concerning aspects of human rights that are relevant to operations = 22,622
Total number of employees trained in human rights policies or procedures concerning aspects of human rights that are relevant to operations = 16,673